Unique night economic model of The Arena
Big profits from the "cities that don't sleep"
The world's most famous tourist cities all have strong night economies such as Las Vegas (USA), Shanghai (China), London (UK), Sydney (Australia), and Pattaya (Thailand)... Revenue from night economic activities accounts for a large proportion of the tourism revenue of these cities. According to research by Ernst & Young (E&Y), the UK nightlife industry contributes around £66 billion, or 6% of GDP. E&Y estimates that London's nighttime economy could contribute nearly £30 billion a year by early 2030, 15% more than it is today. Besides, the night economy also brings 4% of the GDP of Australia, equivalent to 134 billion USD.
Vietnam has also developed a strategy to develop a night economy model and localities are rapidly implementing activities to promote tourism and economic development. This type has appeared in tourist capitals such as Phu Quoc, and Da Nang ... shown in the model of night markets, nightlife streets, 24-hour convenience store chains, walking streets, or special entertainment zones. These places not only create new colors, help attract and retain tourists, but also provide jobs and income for workers, creating new motivation for development.
Advantages of developing night economy at The Arena
Cam Ranh is one of the bright spots on the tourist map of Vietnam, but there is a lack of professional nighttime economic models. This place is waiting for the emergence of this type of economy, hoping to create a driving force for the strong development of tourism.
The Arena pioneered bringing a unique night-time economic model to Bai Dai, which is mainly a self-contained resort. The project has a prime location, owns 500m of coastline; is located next to Nguyen Tat Thanh Boulevard, featuring unique architecture: 4 bow-shaped independent buildings gradually reaching out to embrace the sea. This place is designed with a model of 6 vacations, 1 destination, which can meet all the needs of visitors such as a complete vacation to nurture family and friends; a resort combining work, and self-discovery; Or it can also be a great destination for couples. Not only that, but The Arena also explodes with the most exciting series of entertainment events in Bai Dai. In anticipation of the night economic model, the central square with a capacity of up to 15,000 people is realized, promising to become an ideal outdoor stage for great cultural and art events in the future.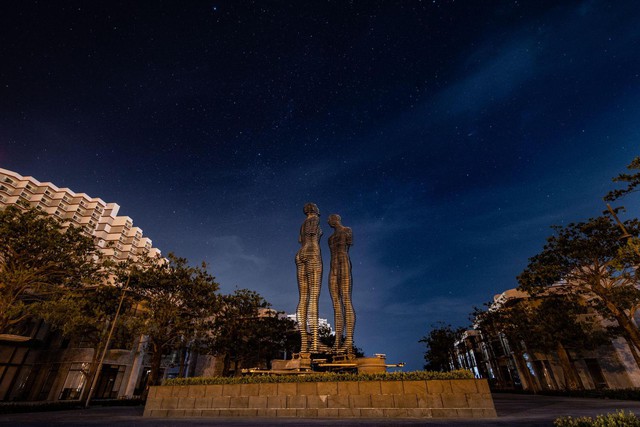 Besides, The Arena is also a "magnet" attracting visitors by the longest 500m walking street in Khanh Hoa. This street combined with the model of a villa shop selling handicrafts, or regional specialties ... is the highlight of the whole project, not only serving tourists staying here but also tourists. are on vacation in Bai Dai to visit, shop, and enjoy food. All these factors make The Arena an open resort, a busy and bustling entertainment, shopping, and entertainment center of the whole Bai Dai regardless of day or night.
Economic activities at night in The Arena
In addition to the choice of cultural exploration, food, or usual shopping, The Arena has planned a series of unique art programs with new styles, promising to become a vibrant resort and entertainment complex. Active with daily, weekly, monthly, and annual grand events.
The Arena Festival Tour 2022 will refresh and stir up visitors' summer with special programs such as "The Area Summer Symphony" concert night attracting large numbers of tourists to participate in the seaside, the "Aloha Hawaiian" festival. " scheduled to be held in August, the annual event "EDM Festival Arena Beat" brings together top local and international DJs and artists… The art shows are cleverly designed to create sharp highlights. for the dull night at Bai Dai.

With a vision and orientation to the night economic model, The Arena project is ready to be handed over and put into operation in August 2022. Just spend 400 million dongs, the investor can own a beachfront apartment with full facilities, promising a high occupancy rate and quick profit.
In particular, in July, the investor introduced to the market the shop villas located on the main axis of the project that will meet the maximum demand for profitable business according to the night economy model of the owners. Customers can become the owner of a villa shop with an initial capital of VND 6.2 billion.